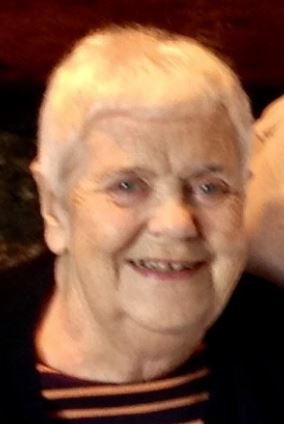 Share Your Memory of
Margaret
Obituary of Margaret Elizabeth Quinlan
Margaret E. Quinlan
Shelby, NC Margaret Elizabeth "Fibber" Quinlan, 87, passed away Friday (December 28, 2018) at Cleveland Regional Medical Center, Shelby, NC.

Born June 9, 1931 in Olean, NY, Fibber was one of five children born to Vincent L. and Irene McGavisk Quinlan.

Fibber was an alumna of St. Elizabeth's Academy in Allegany, NY and a graduate of the Class of 1953 from Marymount College in Tarrytown, NY. She worked in the advertising department at Bonwit Teller, the New York City retail establishment, prior to embarking on a distinguished career in elementary education, spanning more than 35 years at Holy Cross Catholic School in New York City.
She was an avid reader and traveled extensively, both domestically and internationally. Fibber shared many of these trips, all of which included shopping, with her beloved friends, Anne, Sr. Judith, Nona and Millie.

Fibber is survived by her brother, Joseph A. Quinlan of Olean, NY. She loved children and, while she never married, she devoted her life and love to her many nieces and nephews, by whom she is also survived, Vincent Quinlan Crockett, Eileen Crockett DeLatour, Vincent L. Quinlan, III, Patrick G. Quinlan, Mary Irene Quinlan Goodrich, Catherine A. Quinlan, Christopher A. Quinlan, David J. Hanley, Brian J. Hanley, Ellen Hanley Mancuso, Eileen Hanley McMillan, Kevin Patrick Hanley, Peter Garrett Hanley, Brendan Michael Hanley, Joseph A. Quinlan Jr., Christopher Gerard Quinlan and Mary Quinlan Hoyle. Fibber is also survived by many grandnieces and nephews and many cousins whom she held dear.
She also cherished her time with special cousins, the late J. Donald and Anne E. Quinlan Jones and their late daughter, Monica Anne Jones Olivette, and surviving cousins, Thomas H. Jones, Fr. Michael P. Jones, OFM and Terrence W. Jones.
In addition to her parents, she was preceded in death by her sisters, Mary Katherine Quinlan Crockett and Eileen Anne Quinlan Hanley and a brother, Vincent L. Quinlan, Jr.. She was also preceded in death by her nephews, John J. Crockett, Jr. and Kevin Crockett.
The family will be present to receive friends on Saturday (January 12, 2019) at St. Bonaventure Church, 95 E. Main Street, Allegany, NY from 9am to 9:30am, followed by a Mass of Christian Burial, led by Fr. Michael Jones, OFM, at 9:30am. Fr. James Vacco, OFM, pastor, will concelebrate. Burial will be in St. Bonaventure Cemetery, Allegany, NY, immediately following the Funeral Mass.
Funeral arrangements are under the direction of Cecil Burton Funeral Home of Shelby, NC and Casey, Halwig and Hartle Funeral Home of Olean, NY.