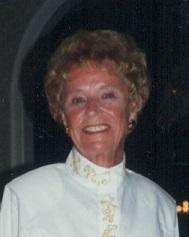 In Memory of
Stella J. Jankowski
Saturday, January 21, 2017
Obituary of Stella Jankowski
Olean, NY Stella J. Jankowski, recently of Eden Heights and formerly of 1116 Homer St. passed away peacefully Saturday (January 21, 2017) at The Pines Healthcare and Rehabilitation Center in Olean.
Born October 19, 1926 in Olean she was the daughter of Thomas and Anna Pikula Bush. On November 21, 1945 at the former Transfiguration Church in Olean she married Joseph T. Jankowski. Theirs was a double wedding with her sister and brother-in-law Nellie and Eddy Ludwiczak. Joseph predeceased her on March 12, 1988.
Mrs. Jankowski was a graduate of Olean High School and of Westbrook Commercial Academy. She had worked for 45 years as the executive secretary and treasurer at Bush Bros. Plating, Inc., retiring from Bush Industries in Jamestown in 1998.
She was a member of St. John's Church in Olean. Her first and foremost passion was in dedicating herself to raising her family and receiving joy from time spent with her grandchildren and great grandchildren. Family and friends will remember her for her positive attitude and cheerful disposition.
Surviving are 2 daughters Patricia (J. Mick) Bizzaro of Keuka Park and Cynthia Scanlon of Olean; 1 son Richard (Pamela) Jankowski of Allegany; 6 grandchildren Jason Jankowski, Jennifer (Jeremy) Stewart, Ashley (Stuart) Alessi, Allyson (Cavan) Jankowski, James Scanlon, II and Stefanie Scanlon; 5 great grandchildren Dustin, Zachary, Cassidy, Benjamin and Nicholas and several nieces and nephews.
In addition to her husband she was predeceased by a son J. William Jankowski on January 1, 2017; a daughter-in-law Margiann "Sue" Jankowski; a son-in-law James Scanlon; 3 sisters Anna Jurenko, Nellie Ludwiczak and Mary Germack and 6 brothers Francis Bush, John Bush, Stanley Bush, Edward Bush, Simon Bush and Joseph Bush.
Friends will be received on Friday (January 27, 2017) from 10-11:30am at the Casey, Halwig & Hartle Funeral Home, 3128 W. State Rd. Olean. A prayer service will begin at 11:30am in the funeral home, followed by a Mass of Christian Burial at noon at St. John's Church, Olean. Rev. John Arogyasami, pastor, will be the celebrant. Burial will be in St. Bonaventure Cemetery.
Memorials may be made to a charity of the donor's choice. Online condolences may be expressed at oleanfuneralhome.com.