Recommend Carmella's obituary to your friends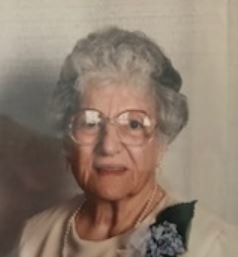 Obituary of Carmella M. Swartz
Carmella M. Swartz
Atlanta, GA Carmella M. Swartz, a former resident of Olean, passed away Tuesday (July 17, 2018) at the Brookdale-Vinings Assisted Living facility in Atlanta.
Carmella was born Carmella M. Orsini on January 1, 1920 and was the daughter of the late Vincent and Andreanna Crisafulli Orsini.
She was a 1938 graduate of Olean High School and of the former Westbrook Business Academy in 1939. She excelled in secretarial skills, and was very proud of her appointment to clerical positions in the United States Treasury Department and the State Department in Washington, D.C., in the waning years of WWII, and of traveling in Europe with the lifelong friends she made there. In 1946, Carmella was asked to take a position at the Berlin Command Headquarters in Germany. It was there she was married in November 1947 and came back to Olean when her son Jim was born in September 1948. She later briefly served a post in Salzburg, Austria. When she completed her overseas service, Carmella returned to Olean, completing her career at the Cattaraugus County Health Department, from which she retired in 1983.
Carmella's business career was outstanding, and she followed it by exuberantly pursuing a Bachelor of Arts in Psychology at St. Bonaventure University, from which she graduated in 1997 at the young age of 77.
Carmella and her family were longtime parishioners of St. John's Church in Olean. She prayed devoutly and was a devoted caregiver to her parents and her sisters during their later years. She loved spending time with her family, enjoyed U.S. history, and grew beautiful roses. She went on to write about her exciting post-war experiences in her published memoir, "Carmella's Journal," in 2006.
Her family has enjoyed her warm and loving presence and pride in them throughout their lives. Left to share many beautiful stories about this extraordinary woman are a son James J. (Marissa) Swartz, Sr.; a granddaughter Mary Katherine (Gary) Waterman; a grandson James J. (Mary) Swartz, Jr., all of Atlanta, GA; her great grandchildren Molly, Andy, Katie and Tommy Swartz and many loving nieces and nephews.
She was preceded in death by 2 sisters Livia Orsini in 1986, Richetta Orsini in 2002 and 2 brothers Lawrence Orsini in 1998 and Joseph Orsini in 2003.
The family will be present to receive friends on Friday from 4-7pm at the Casey, Halwig & Hartle Funeral Home 3128 W. State Rd. Olean. A prayer service will be held Saturday (July 21, 2018) beginning with a prayer service at 9:30am in the funeral home. A Mass of Christian Burial will follow at 10am at St. John's Church. Rev. Patrick Melfi, pastor, will be the celebrant. Burial will be in St. Bonaventure Cemetery.
Memorials, if desired, may be made to St. Jude Children's Research Hospital 501 St. Jude Place, Memphis, TN 38105. Online condolences may be expressed at oleanfuneralhome.com.