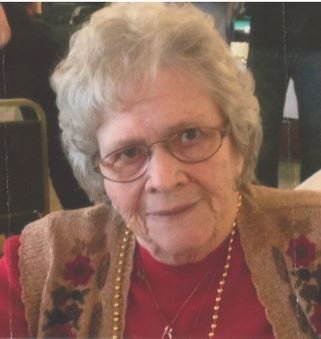 Obituary of Nan Young
Nan M. Young
Olean, NY Nan M. Young of Olean passed away Friday (June 29, 2018) at The Pines of Olean, in the loving presence of her family.
Born March 11, 1936 in Olean she was the daughter of Robert and Mae Henderson Bergstrom. On June 18, 1955 at St. John's Church in Olean she married Richard A. Young, Sr. who predeceased her August 28, 2008. She had missed her husband everyday and now they are reunited in eternal love.
Nan was a 1953 graduate of Olean High School and, prior to her marriage, was first employed by the New York Telephone Co. She then devoted herself to raising her and her husband's six children and received great joy in sharing in their participation in sports and extra-curricular activities. With her, family was always first and she was proud of her kids, grandkids and great grandkids. She affectionately called her extended family her "kids".
After the youngest child started school, Nan began working outside the house. Over the years she worked at the former Weathervane, the former Century Wholesale Supply Co. and also Shoppers City. She then worked as a teller for the former Gold Dome Bank, later Key Bank in Olean.
Nan was active in Welcome Wagon and Newcomers and enjoyed playing bridge and league bowling. She always enjoyed working with the Miss New York State Pageant when it was in Olean. After retirement, she and her husband traveled to Wildwood, FL during the winter months to join many local friends at the Continental Country Club.
She is survived by 6 children Timothy (Patti) Young of Pittsburgh, PA, Richard (Cathy) Young, Jr. of Olean, Michael (Carol) Young of Chesapeake, VA, Penny (Kert) King of Ellicottville, Paul (Tammy) Young of Erie, PA and Holly (Donald) Thierman of Portville; grandchildren Timothy Young, Patrick (Sydney Duncheon) Young, Richard (Kait) Young, Maureen (Jerry Tramuta) Young, Bradley (Kristin) Young, Teresa (Eric Eaton) Raines, Kristopher (Bianca Hilaire) Young, Melissa (Bradley) Smith, Nicole (Joseph) Layton, Kaitlin Young, Hannah Young, Sarah Young, Ryan Thierman and Logan Thierman; great grandchildren Rowan, Hanna, Evan, Decklyn, Caleb, Jazlynn, Jace, Kole, Ayden, Kayleigh, Julia and Jaxson; a brother-in-law Thomas (Sandy) Young and a sister-in-law Mary (Chuck) Senn, both of Cattaraugus and many nieces and nephews.
In addition to her husband she was predeceased by a granddaughter Jennifer, a grandson Kevin and twin great granddaughters Destiny and Desiree.
The family will be present to receive friends on Sunday from 4-7pm at the Casey, Halwig and Hartle Funeral Home 3128 W. State Rd. Olean. A funeral service at the Basilica of St. Mary of the Angels will be held Monday (July 2, 2018) at 9:30am. Rev. David Tourville, associate pastor, will be the celebrant. Burial will be in St. Bonaventure Cemetery.
Memorials may be made to the Basilica of St. Mary of the Angels, 202 S. Union St. Olean, NY 14760 or to Friends of the Pines, 2245 W. State St. Olean, NY 14760.
Online condolences may be expressed at oleanfuneralhome.com.