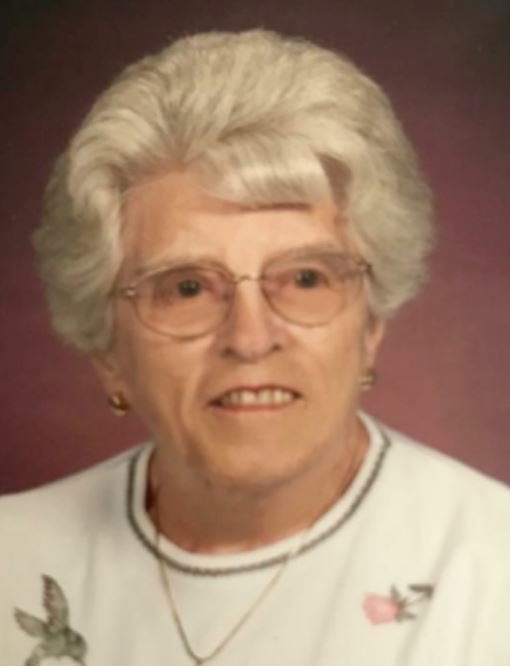 Obituary of Jacqueline Fisher
Jacqueline T. Fisher
"Loving mother, grandmother and great grandmother"
Olean, NY Jacqueline T. Fisher, 93, formerly of Olean, died Wednesday (September 6, 2017) at the Bradford, (PA) Ecumenical Home following a lengthy illness.
Jackie was born December 27, 1923 in Macon, Georgia, the only child of Benjamin and Louese VandeGrift Tharpe. She graduated from Macon public schools and pursued a career in secretarial, clerical and bookkeeping positions. During World War II, while volunteering for the USO in Norfolk, Virginia, she met Robert W. Fisher of Olean, a Navy pharmacist's mate who was based in Norfolk. An invitation to go out for ice cream led to romance, culminating in their marriage November 7, 1943, in Norfolk. After raising their family in Olean, the Fishers moved to Okeechobee, FL in 1976, residing there until Bob's passing July 7, 1997. Mrs. Fisher returned to Olean to be near her children and their families.
A music lover all her life, Jackie was an accomplished pianist and organist, who grew up playing four hand duets with her mother. An avid reader, she spent many years of her later life listening to talking books provided by the New York State Talking Book and Braille Library.
Jackie is survived by her two sons, Richard L. (Marcy) Fisher of Warren, PA and James E. (Leona) Fisher of Olean and her daughter, Barbara (Noel) Peters of Little River, SC; her grandchildren: Robert Fisher of East Amherst, NY, William Fisher of Haworth, NJ, Anthony Howard and Amy Howard both of Olean, Katie Howard of West Seneca , David Fisher of Allegany and Michael Fisher of Arnold, MD; eleven great-grandchildren and one great-great-granddaughter.
Jackie was a devout member of the Christ United Methodist Church in Olean and will be missed by many close friends of her church family. She was also a member of the Order of the Eastern Star, Electa Chapter 84 in Olean.
Jackie's family is particularly grateful for the many years of superb and loving care by the devoted staff at Bradford Ecumenical Home.
Friends will be received at the Casey, Halwig & Hartle Funeral Home, 3128 NYS Rte 417 West, Olean, on Wednesday from 4:00 to 7:00 pm. The funeral service will be conducted in the funeral home on Thursday, (September 14, 2017) at 11:00 am. Rev. Suzanne Block, pastor of Christ United Methodist Church, will officiate. Internment will be at the convenience of the family at Chestnut Hill Cemetery, Portville where Jackie will be joined with Bob in eternal rest.
Memorials may be directed to Christ United Methodist Church, 633 Linwood Ave., Olean, NY 14760, Interfaith Caregivers, P.O. Box 319, Olean, NY 14760 or to a charity of the donor's choice.
Online condolences may be expressed at www.oleanfuneralhome.com