Recommend Joseph's obituary to your friends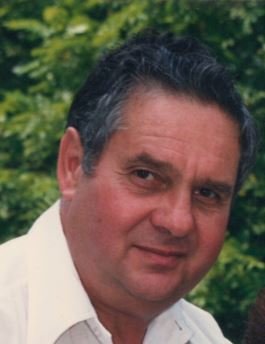 Obituary of Joseph P. Crisafulli
Joseph P. Crisafulli
Allegany, NY Joseph P. Crisafulli, 89, of 3332 Maple Ave. passed away Saturday (November 9, 2019) at the Absolut of Allegany, surrounded by family and friends.
Joe was born November 30, 1929 in Allegany and was the son of Angelo and Celestina Mollica Crisafulli. On September 25, 1954 at St. Joseph's Church in Olean he married Joan L. Housey who survives.
Joe was a lifelong resident of Allegany, attended Allegany schools, and served in the US Army while stationed in Germany during the Korean War. He was also a devout catholic who had a very deep faith in his religion. He was a life-long parishioner of St. Bonaventure Church in Allegany.
He was first employed by the former K-Bar Cutlery and later Clark Bros. Co. before beginning in the construction business. He worked for the Edstrom Construction Co. and later worked for Crisafulli Construction along with his brothers Lawrence and John. He also co-owned and operated the Canada Dry Distributorship along with his brother Lawrence. He later established Joe Crisafulli and Son Construction where he worked until his retirement. His son continues his legacy with quality craftsmanship learned from his father.
Joe loved gardening, enjoyed and took pride in lawn care, was an avid bowler, was a lifelong member of the American Legion, and was an honorary member of the 4th Degree Knights of Columbus, Olean Assembly for many years. Joe always wanted to make sure his friends and loved ones were happy.
He is survived by his wife Joan, to whom he was married for 65 years; 1 son Joseph (Tracy) Crisafulli of Allegany; 1 daughter Theresa Crisafulli of Allegany; 2 grandchildren Kyle Crisafulli of Allegany and Kelly Jo Crisafulli of Olean; 3 brothers John (Josephine) Crisafulli of Allegany, Nick Crisafulli of Jamestown and Michael (Gail) Crisafulli of Allegany; 1 sister Sarah Kinley of Olean; a sister-in-law Elma Crisafulli of Allegany and many nieces and nephews.
He was predeceased by a brother Lawrence Crisafulli in 2011; a brother-in-law James Kinley in 2015 and a sister-in-law Ruth Crisafulli in 2017.
Friends will be received on Wednesday from 4-7pm at the Casey, Halwig & Hartle Funeral Home, 3128 W. State Rd. Olean. Funeral services will be held Thursday (November 14, 2019) beginning with a prayer service at 9:30am in the funeral home, followed by a Mass of Christian Burial at 10am at the Basilica of St. Mary of the Angels.
In lieu of flowers, memorials may be made to St. Bonaventure Church or to the Alzheimer's Association of WNY, 6215 Sheridan Dr. Suite 100, Buffalo, NY 14221 . Online condolences may be expressed at oleanfuneralhome.com.