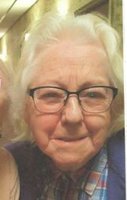 Genevieve Ann Russell
Genevieve Ann Russell
Hinsdale, NY Genevieve Ann Russell of 3381 Route 16 entered peacefully into the arms of the Lord on Sunday (March 31, 2019) at her home.
Born November 6, 1935 in Hinsdale she was the daughter of Monroe Benjamin and Rosabell Hamilton Bishop. On November 24, 1956 at the Methodist Church in Cuba she married Samuel Preston Russell who predeceased her February 12, 2011.
Genevieve was a 1954 graduate of Hinsdale Central School and as a young child, attended Hinsdale United Methodist Church as well as the Salvation Army.
She first worked at her parents restaurant in Cuba, the "Bishop's Lunch" for a couple of years. Then she was employed for the former Acme Electric Co. in Allegany for a short time. After moving first to Bixby, OK in 1970 to 1986, and later to Stone Bluff, OK, she worked as a department manager for Walmart for many years until her retirement.
She was a member of the Hinsdale Firemen's Auxiliary and faithfully marched every summer in the parades. Oftentimes in her life she was surrounded by the company of dogs and they were her loving companions. She also enjoyed crocheting.
Surviving are a sister Rosie Hamilton of Hinsdale; a brother Monroe (Jan) Bishop of Hinsdale and several nieces and nephews.
In addition to her husband Samuel she was predeceased by 2 brothers Richard O. Bishop and Eugene A. Bishop and a sister Hazel Dutton.
The family will be present to receive friends on Wednesday (April 3, 2019) from 10am until noon at the Hinsdale United Methodist Church. A funeral service will immediately follow at noon in the church. Monroe Bishop, brother to Genevieve, will lead the service. Burial will be in Allegany Cemetery.
Memorials, if desired, may be made to the Hinsdale Fire Department, 3832 Main St, Hinsdale, NY 14743. Online condolences may be expressed at oleanfuneralhome.com.