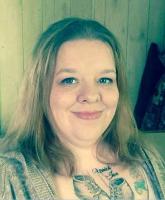 Jessica L. Wright
Jessica L. Wright
Olean, NY Jessica L. Wright, 39, of 1315 Reed St. died Friday (December 30, 2016) shortly after admission to Olean General Hospital.
Born November 14, 1977 in Olean she was the daughter of Raymond Washburn and Debra Wagner Miller.
Jessica was a resident of Olean most of her life and enjoyed raising her family and spending time with her grandchildren. She also loved kayaking and camping and enjoyed collectibles such as turtles and dragonflies.
Surviving are her fiancé Daniel Bucher of Olean; her mother of Buffalo; her father of Olean; 6 children Chyann Ellis, Sebastian Bucher, Shilynne (Jason) Czerminski, Anthony Washburn, Jimmy Wright and Desirae Wright; 4 grandchildren Anthony Washburn, Jr., James Czerminski, Giovanni Washburn and Abalina Ellis; 4 brothers Bill (Amy) Borden of Buffalo, Steven Borden and Don (Jayde) Harris, both of Olean and Chris Miller of Buffalo; 3 sisters Paula Miller, Courtney Boswell and Ashley (Ron) Soto, all of Buffalo and several aunts, uncles, nieces and nephews.
Friends will be received on Thursday (January 5, 2017) from 4-7pm at the Casey, Halwig & Hartle Funeral Home, 3128 W. State Rd. Olean. Services will begin at 7pm with Rev. Jeffrey Wagner, uncle to Jessica, officiating. Online condolences may be expressed at oleanfuneralhome.com.