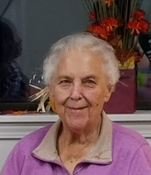 Grace E. Thurston
Grace E. Downer Thurston
Allegany, NY Grace E. Downer Thurston joined her loving soul mate Gene on Thursday, April 12, 2018.
She was born October 21, 1931 in Elizabethtown, PA, the daughter of the late Charles F. and Helen Angemeer Downer. On July 26, 1958 in the First Baptist Church of Olean she married Gene H. Thurston who predeceased her August 30, 2007.
Grace was a 1949 graduate of Monongahela, PA High School and in 1953 graduated from the Baptist Institute for Christian Workers in Philadelphia, PA. During her college years she worked in Christian centers in the area and also within Philadelphia churches. She was a member of the "B.I." choir at college and, to help pay for school, assisted in the dining area as head waitress and as kitchen assistant.
In 1953 she joined the American Baptist Youth Intern Program as the director of education, traveling in NH, MA, CT, and PA, organizing programs and working with youth.
Grace came to Olean to serve as Director of Christian Education at First Baptist Church in September of 1956. She worked at the church until her marriage and then volunteered as Church School Superintendent, Assistant Superintendent/Children's Work Chairman, taught children's church choir for many years and served as a Deaconess. She received a special bell after doing Cherub Choir for 27 years. She was also a member of the senior choir for more than 50 years and was also a member of "One A Cord Bell Choir" at the church.
From 1970 to 1994, Grace worked at the Olean YMCA as an aide, and then co-director of the nursery and preschool programs. After retiring in 1994, she volunteered as nursery school music teacher and assisted in special programs. Grace was one of the first to serve Meals on Wheels in the area and in 1994 the Department of Aging recognized her for 21 volunteer years. She also volunteered with the Olean General Hospital Auxiliary and its sewing group; was a cancer relief caller for several years, and was a member of the Allegany 60-Plus.
She credited everything she did to following the Lord in faith and believing.
Surviving are a son Kevin G. (Edwina) Thurston of Oceanside, CA; 2 daughters Barbara G. (Ron) Graf of Elgin, IL and Janice R. (Patrick) Collins of Franklinville; 9 grandchildren Lisa, Jonathan, Brittany, Stephanie, Tyler, Hannah, Hope, Nathan and Micah; 8 great grandchildren Aiden, Caleb, Akina, Liam, Julissa Grace, Lyla, Dallas and Anabelle; 2 step-grandchildren Joanne and Mark and several step great-grandchildren. She is also survived by many nieces and nephews, including a special niece Karen (Randy) Kohler and a sister-in-law Ruth Thurston of FL. She was anticipating the arrival of her 9th great grandchild Emily Elizabeth Grace.
In addition to her parents and husband she was predeceased by 2 brothers; a sister; a niece; a nephew and a great grandson Timothy Thurston.
Friends will be received for a memorial visitation on Thursday from 2-4 & 6-8pm at the Casey, Halwig & Hartle Funeral Home, 3128 W. State Rd. Olean.
A memorial service of celebration and music will be held Friday (April 20, 2018) at 10:30am at the First Baptist Church of Olean. Rev. Millard Cook will officiate. Burial will be next to her husband in Allegany Cemetery.In lieu of flowers, memorials, if desired, may be made to the First Baptist Church music department, 133 S. Union St., Olean, NY 14760 or to New Life Christian School, PO Box 102, Olean, NY 14760.