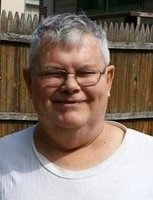 John E. Tupper, Jr.
John E. Tupper, Jr.
Olean, NY John E. Tupper, Jr. of 312 W. Green St. passed away Thursday (April 5, 2018) in his home in the loving presence of his daughters.
Born March 14, 1944 in Southern Pines, NC he was the son of John E. "Jack" and Margaret "Peg" Grandusky Tupper. He shared a 42-year, loving relationship with Debra Moyer who survives.
John was a 1962 graduate of Allegany Central School and held numerous academic degrees including business and accounting at Bryant and Stratton School of Business.
He was employed for over 10 years for Dresser Rand Co. and then worked 20 years as a custodian for the Olean City School District at the Middle/high School, retiring in 2006.
He was a member of the Knights of Columbus, and was an avid collector of such items as coins, stamps and beer steins. He had a real interest in and enjoyed buying cuckoo clocks. He loved spending time watching old television shows, and had an unquenchable thirst for knowledge of a wide variety of topics.
Surviving besides his loving companion Debra and his mother of Olean are 2 daughters Megan (Jeremy Dwaileebe) Tupper of Olean and Jenny (Howard "Kurt" Smith) Moyer of Three Rivers, TX; 5 grandchildren Levi Otero, Leo Otero, Oasis Dwaileebe, Angel (Wesley) Braune, Howard Smith, Jr. and Brittany (Albert) Moreno; 2 great grandchildren Clairabelle Moreno and Rebekah Braune; 1 brother Thomas (Vanessa) Tupper of Cuba; 3 sisters Tina August of Haslet, TX, Tricia (Jon) Neporadny of Jakarta, Indonesia and Terry (Mark Kiellish) of Land-O-Lakes, FL; and many nieces and nephews.
He was predeceased by his father in 1998, an infant daughter Tina Marie Tupper in 1989, a brother Timothy Tupper in 1984 and a sister Peggy Kemp.
Friends will be received on Saturday (April 7, 2018) from 3-5pm at the Casey, Halwig & Hartle Funeral Home, 3128 W. State Rd. Olean. A funeral service will begin at 5pm in the funeral home. Rev. Gregory Dobson, pastor of the Basilica of St. Mary of the Angels, will officiate. Memorials may be made to St. Jude Children's Research Hospital 501 St. Jude Place, Memphis, TN 38105. Online condolences may expressed at oleanfuneralhome.com.