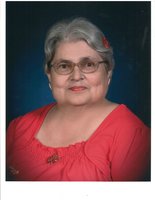 Ruth Anne James
Ruth Anne James
Olean, NY Ruth Anne James, a former longtime resident of Wayne Street passed away peacefully Sunday (March 25, 2018) at Jones Memorial Hospital in Wellsville, surrounded by her loving son and his family.
Born February 12, 1949 in Olean she was a daughter of the Albert and Arlene M. Stevens James.
Ruth Anne was a graduate of Olean High School and continued with some nursing education courses. Shortly after graduation she enlisted in the US Navy and served during the Vietnam era.
She worked for many years at Clark Bros., later Dresser Rand Co. where she took an early retirement due to illness.
She was a devout Christian who regularly attended worship services, read her Bible daily and trusted in the Lord. She was devoted to her family as well, and cherished time spent with her grandchildren. She took great joy in the company of her cats and in feeding the birds daily. She also loved to spend time reading.
Surviving are 2 sons Joseph (Brenda) Tascone of Olean and Thomas (Kristen) Tascone of Virginia; 12 grandchildren Andrew, Nikkolas, Shayne, Benjamin, Jessyka, Joshua, Tyler, Chase, McKenzie, Kaylee, Brayen and Leandra; 9 great grandchildren; 2 brothers David (Lisa) James of Salamanca and Paul (Lori) James of Lackawanna and several nieces and nephews.
In addition to her parents she was predeceased by a lifelong friend Leonard Laieski.
Friends will be received on Friday (March 30, 2018) from 4-6pm at the Casey, Halwig & Hartle Funeral Home, 3128 W. State Rd. Olean. Services will immediately follow at 6pm in the funeral home. Burial will be in Allegany Cemetery.
Memorials may be made to the Olean Food Pantry 8 Leo Moss Dr, Olean, NY 14760 or to the SPCA, PO Box 375 Olean, NY 14760. Online condolences may be expressed at oleanfuneralhome.com.