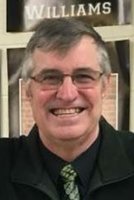 Frank A. Martin
Frank A. Martin, III
"Beloved family man, teacher, coach"
Allegany, NY Frank A. Martin, III of 13 Saint Mary's Dr. passed away unexpectedly Wednesday (March 21, 2018) at the Olean General Hospital, surrounded by his loving family.
Born August 2, 1958 in Mountain Home, Idaho he was a son of Frank A. and Juanita Rottingdaus Martin, Jr. On June 6, 1981 in Alexandria, KY he married Brenda K. Lucas who survives.
Frank was a graduate of Robinson High School in Tampa, FL and later was a graduate of Cumberland College in Williamsburg, KY from which he received a full ROTC scholarship. He obtained his Master's degree in business from the University of Tennessee.
He served active duty for 21 years in the US Army from 1980 to 2001. During his latter years of service he was stationed at St. Bonaventure University as head of the ROTC program. During that time he received his teaching degree at the University and also worked 1 year for the school's Achievement Center.
He enjoyed his career in education, both as a coach and as a history teacher. He worked for Archbishop Walsh Academy as the girl's basketball coach for 3 years and as the principal for 1 year. While at Allegany-Limestone Central School he taught history and coached 3 sports including varsity girl's volleyball, varsity tennis and girl's varsity basketball. He enjoyed many successful seasons and just ended this basketball season by leading the Lady Gators in their first state final four appearance.
Frank's family was the foundation upon which he built his life of service to others in his patriotism and his teaching and coaching. He most enjoyed family gatherings and family trips.
Surviving besides his wife are 4 daughters Heather (J.J.) McIntosh of Allegany, Kristen (Justin) Fluent of Orange Park, FL, Brittany (Colton) Monroe of Horseheads, NY and Caitlin Martin of Allegany; 6 grandchildren Owen McIntosh, Hailey McIntosh, Riley Fluent, Noah Fluent, Madelyn Monroe and Alivia Monroe; 2 brothers James (Laura) Martin and Lawrence Martin, both of Jacksonville, FL; many nieces and nephews; a mother-in-law Ruby Lucas of Alexandria, KY and 2 brothers-in-law Larry Lucas and Kevin (Tammie) Lucas, both of Alexandria, KY.
Friends will be received on Saturday from 5-8pm and on Sunday from 3-5pm at the Casey, Halwig & Hartle Funeral Home 3128 W. State Rd. Olean. Funeral services will be held Sunday (March 25, 2018) at 6pm at St. Bonaventure Church. Rev. James Vacco, OFM, will officiate. Burial will be on Monday at St. Bonaventure Cemetery, with full military services being accorded by the Allegany American Legion Ritual Team.
Memorials, if desired, may be made to the Frank A. Martin, III Academic Scholarship Fund that is in the process of being established.
Online condolences may be expressed at oleanfuneralhome.com.