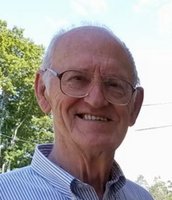 Richard J. "Dick" Solak, Sr.
Richard J. Solak, Sr.
Allegany, NY Richard J. Solak, Sr. of 102 Clarence St. passed away peacefully Saturday (March 10, 2018) at Buffalo General Hospital, surrounded by his loving family.
Born May 21, 1930 in Colden he was a son of George and Mary Skrok Solak. On June 30, 1956 at Our Lady of the Sacred Heart Church in Colden he married Joyce Meyer who survives.
Dick was a 1948 graduate of Griffith Institute in Springville and later served from 1951-1954 with the US Air Force during the Korean War.
His career spanned several decades working for the telephone company from its days as Bell Telephone to its current name of Verizon. Always referred to by him as "Ma Bell", he started from an entry level position in the Buffalo area, progressed to business office manager in Olean, and completed his career in West Seneca as the region's coin-phone operations manager.
While in Colden he served as a life member of the Volunteer Fire Department and was a founding member of the Glen Coe Conservation Society. He served a term as a board member of the Springville Griffith Institute and was its president from 1973-1974. He was a Fourth Degree Knight, and was also a volunteer chairman for the United Way of Western New York in Tonawanda. It was in Tonawanda that he became a member and president of its Rotary Club, a service organization he deeply loved and that he continued serving during his years in Olean. He also served as the president of the Olean Rotary Club, and in 1980 he represented the club by chairing the District 709 Conference held in Niagara Falls.
He helped in the building of 4 homes in which he and Joyce lived in Colden, Bluffton, SC and Allegany. After retiring to Bluffton he continued to enjoy hobbies such as euchre and gardening. It was in Colden that he was awarded the "Landscaping Yard of the Year". Another recognition came in 2003 with an award by the State of South Carolina, presented by former president Jimmy Carter, as "Volunteer of the Year" for his work as project manager for Habitat for Humanity. He was also a volunteer project manager for the transformation of St. Andrews Chapel in Pinkney Colony, SC. He and Joyce moved back to this area in 2016.
Besides his loving wife Joyce of nearly 62 years, he is survived by 4 children Richard J. Solak, Jr. of Zelienople, PA, Jeannine (Marc) Rouleau of Camas, WA, Carolynne Solak of Allegany and Mark (Cindy) Solak of White Sulpher Springs, W. VA; 17 grandchildren Richard J. (Jamie) Solak, III, Kathleen (Matt Kuznear) Solak and Thomas (Natalie) Solak; Colden Rouleau, Daniel (Karla) Rouleau, Caleb (Carol) Rouleau, Noah Rouleau and Grace Rouleau; Aaron (DeLisa) Drum, Shawn (Stephanie Miller) Drum and Nicholas (Kate Himes) Drum; Joshua (Ashley) Smith, Jacob Solak, Jacqulyn (Stephen) Sheppard, Davis Solak, Josiah Solak and Charlotte Solak; 6 great grandchildren Harrison Smith, Tucker Drum, Paxton Sheppard, Kyrie Drum, Paisley Smith and Jade Avery Solak; a sister Estelle "Stell" (John) Szymanski of N. Tonawanda; a brother Edward "Ed" Solak of Getzville; a brother-in-law Milton "Doc" (Marie) Meyer of Homosassa, FL and numerous nieces and nephews.
He was predeceased by 5 siblings Bernice Solak at age 3, Charlotte "Shush" Kita, Lucy "Lou" Reding, Euginia "Jean" Kita and Henry "Hank" Solak.
The family welcomes friends to a memorial visitation on Friday from 4-6pm at the Casey, Halwig & Hartle Funeral Home 3128 W. State Rd. Olean. A memorial service will be held Saturday (March 17, 2018) at 11:00am at St. John's Lutheran Church in Allegany. Rev. Gerard F. leFeber, retired, will officiate.
Memorials may be made to Kevin Guest House, 782 Ellicott St., Buffalo, NY 14203 or to St. John's Lutheran Church, 36 N. 4th St. Allegany, NY 14706.
Online condolences may be expressed at oleanfuneralhome.com.