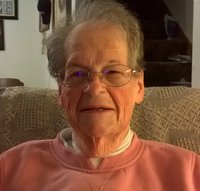 Evelyn M. Tilly
Evelyn M. Tilly

OLEAN – The dear Evelyn M. Tilly of 136 S. 5th Street passed away Friday, March 10, 2018 at her daughter's home in Buffalo after a recent illness. She had turned 91 just five days before her death.

A lifelong Olean resident, "Ev," or "Evie" as she was often called, was born March 5, 1927, in her parents' home on King Street in Olean. She was the fifth child of the late Emory and Angeline Smalt Worth. A graduate of Olean High School, Ev married Charles Tilly of Olean on September 2, 1947, at St. Mary of the Angels Church, and moved into their home on South 5th Street where the couple resided their entire married life and raised their family. Charles died December 4, 1998.

A devoted wife, mother, grandmother, sister, and friend, Evie was an active homemaker, frequent camper, talented crafter, and an avid Buffalo Bills fan. She worked a variety of jobs in Olean throughout her life, including the former Daystrom Furniture Co. and Bradner's Department Store, among several other employers.

She was a lifelong parishioner of St. Mary of the Angels Church. In her golden years, she traveled extensively with her daughter, read frequently, and was a member of Bluebirds Camping Club and the Red Hat Society – as she loved to laugh, have fun, and enjoy life.

Ev is survived by two sons; Todd (Patricia) Tilly and Tom (Sherri) Tilly, both of Olean; a daughter Teri (Mark) Chapman of Buffalo; six grandchildren – Jonathan Tilly of Arcade, Mitchell Tilly, Connor Tilly, and Ashley Tilly-Belec, all of Olean and Sarah Tilly and Elijah Tilly, both of Rochester; a sister, Gloria Rice of McEwen, TN and many nieces and nephews.

In addition to her husband, Ev was pre-deceased by a young son Timothy, who died of leukemia at age 4, and a granddaughter Amber Tilly-Smithson, who died in 2015. Ev also was predeceased by five of her siblings Jay, Herbert, Caroline, Elizabeth "Betty" and James.

Friends and family are invited to call on Monday from 2-4 p.m. and 6-8 p.m. at the Casey, Halwig, and Hartle Funeral Home, 3128 W. State Rd., Olean. Services will be held Tuesday (March 13, 2018) beginning with a prayer service at 9:30am in the funeral home. A funeral service will follow at 10:00am at the Basilica at St. Mary of the Angels. Rev. David Tourville, associate pastor, will be the principal celebrant. Burial will be in St. Bonaventure Cemetery.

Memorial gifts, if desired, may be directed to St. Jude Children's Research Hospital, 501 St. Jude Place, Memphis, TN 38105 or your local Leukemia Society.
Online condolences may be expressed at oleanfuneralhome.com.