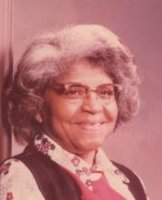 Gladys A. Gayton
Gladys A. Gayton
Olean, NY Gladys A. Gayton, 100, a longtime resident of 519 N. 6th St. passed away Sunday (March 4, 2018) at Absolut Care of Allegany.
Gladys was born April 10, 1917 in Olean, a daughter of Harry and Ruth V. Peterson Gayton. Her parents raised her and her siblings at their home at the end of Railroad Avenue, now Seneca Ave in Olean and she had since resided on N. 6th St. until she needed extended care at the Absolut Care of Allegany.
She attended Olean schools and worked most of her life at various shops in town as well as in people's homes in Olean. She last worked as an auto detailer, wax and polish person for a few area automobile dealers and was once featured by General Motors, Inc. as being only one of two women in the area to do this work at the time in the 1960's.
Gladys was a woman whose life was guided by the Holy Spirit and thus showered the love of the Lord to her family and friends through her smile and kind words. She was one of the founding members of the Church of God of Prophecy and served as treasurer for a long time. To many who knew her she was "Mom" and worth a million to them. She also was a former member of the Order of the Eastern Star.
Surviving are a brother William Gayton of Oberlin, OH and numerous grandchildren, great grandchildren, nieces and nephews.
She was predeceased by a son Montie Gayton and 5 brothers John, Harry, Arthur, Adrian and Gordon Gayton and 2 sisters Irene Clemons and infant Harriet Gayton.
The family will be present to receive friends on Saturday (March 10, 2018) from 10:00am until noon at the Casey, Halwig & Hartle Funeral Home 3128 W. State Rd. Olean. Services will begin at noon in the funeral home. Bishop Marion Richey will officiate. Burial will be in Mt. View Cemetery, Olean.
Memorials may be made to the Church of God of Prophecy, 919 King St., Olean, NY 14760. Online condolences may be expressed at oleanfuneralhome.com.