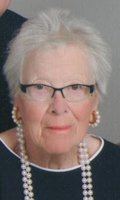 June M. Neeley
June M. Neeley
Olean, NY June M. Neeley of 412 Irving St. passed away peacefully Tuesday (February 27, 2018) in her home.
Born June 20, 1925 in Allegany she was the daughter of Clarence and Marguerite Boser Zink. On June 18, 1944 in Rantoul, IL she married the love of her life, Harry L. Neeley who predeceased her January 10, 1987.
Mrs. Neeley was a graduate of Allegany Central School and resided in Olean most of her life. She was a homemaker and enjoyed raising her family. She was an integral part of her grandchildren's lives as they were growing, always available for babysitting, loving, and caring for their daily needs in any way she could.
She was a member of the Calvary Community Chapel in Delevan and a former longtime member of the Grace Alliance Church in Olean. Growing flowers was a favorite activity and she enjoyed being outside in the sun, going to garage sales and thrift stores. Even at her advanced age, she loved to travel to the Springville auction.
Surviving are 5 children Patti Putt of Olean, Katie (Jim) Eiss of Williamsville, David Neeley of Olean, Debbie (Tom) Lacher of Olean and Robert Neeley of Delevan; 10 grandchildren Frank (Kat) Putt, Shawn (Ella) Putt, Cassie (Mike) Miller, Wendy (Dan) Pautz, Tammy (Art) Putt-Goudie, Dan Eiss, Nicole (Mike) Conroy, Chrissy Neeley, Krystle (Matt) Manera and Stephanie Lacher; numerous great grandchildren and great-great grandchildren; a dear niece Vickie (Ray) McKinney and a nephew Jimmy Wolf.
In addition to her husband she was predeceased by a sister and brother-in-law Evelyn and Bob Wolf and a brother-in-law Bill Neeley.
Friends will be received on Friday from 5-7pm at the Casey, Halwig & Hartle Funeral Home 3128 W. State Rd. Olean. Visitation will continue on Saturday (March 3, 2018) from 12:30 to 1:30pm at the funeral home, at which time funeral services will be held. Rev. Tim Chase, pastor of the Calvary Community Chapel will officiate. Burial will be in Allegany Cemetery.
Memorials may be made to Calvary Community Chapel, 11022 NY-16, Delevan, NY 14042. Online condolences may be expressed at oleanfuneralhome.com.