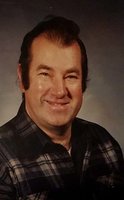 Richard R. Richardson
Richard R. "Dick" Richardson
Falconer, NY Richard R. "Dick" Richardson of 69 Grace Circle, a former longtime resident of Olean, passed away Saturday (February 24, 2018) at the Buffalo General Hospital.
Born November 12, 1938 in Olean he was the son of Otis and Ethel Johns Richardson, Sr. He was first married to Dawn Greene with whom he had 3 children. In 1971 he met Charlotte Keesler Carpenter and they later married in 1984 at the Bethel Assembly of God Church in Olean.
Dick was a veteran of the US Army and served from 1961 to 1963 where he was stationed in Missouri for most of his service. He was proud of his service and was proud of the several family members who have also served. He worked at Dresser Rand Co. as a machinist for 9 years and later worked as a mechanic as well as a roofer in the area.
He was a member of the East Randolph United Methodist Church and while a resident of Olean he and his wife were members of the Bethel Assembly of God and the Haskell Community Church. He loved working on cars and attending car shows. He also loved country music but he especially will be remembered for his ability to find humor in most things and make others laugh with him.
Surviving besides his wife are 5 children Richard Richardson, Jr. of Simpsonville, SC, Jon Richardson of Hendersonville, NC, Christine (Ted) Edwards of Beaufort, SC, Rick (Denice) Carpenter of Olean and Juanita (Taylor Tomlgenovich) Valenciana of Olean; 3 stepchildren Bryan Carpenter of St. John's AZ, Georgia (Helen Streett) Carpenter of Farmington Hills, MI and Donald (Jennifer) Carpenter of Hilton; 35 grandchildren, great grandchildren and great-great grandchildren; 1 brother Charles (Bernice) Richardson of Cuba; 1 sister Kathleen (Gary) Glaze of Adrian, MI and several nieces and nephews.
He was predeceased 4 brothers Otis Richardson, Jr., Jack Richardson, James Richardson and Donald Richardson and 1 sister Virginia Reynolds.
Friends are welcome to visit from 11am to noon on Thursday (March 1, 2018) at the East Randolph United Methodist Church at 122 Church St. Services will immediately follow at noon. Rev. Violet Davidson will officiate in the absence of Rev. Rodney Milham. Burial will be in Mt. View Cemetery Veterans Field of Honor with full military honors accorded by the Allegany American Legion Ritual Team.
Arrangements are under the direction of the Casey, Halwig & Hartle Funeral Home, Olean. Online condolences may be expressed at oleanfuneralhome.com.