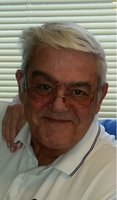 James F. Goodemote
James F. Goodemote
Allegany, NY James F. Goodemote of 2310 Sheldon Drive passed away Wednesday (December 27, 2017) at the Olean General Hospital.
Born August 11, 1941 in Olean he was the son of Leon and Margaret Burns Goodemote. On February 2, 1963 at St. Aloysius Church in Springville he married Linda L. Lux who passed away January 18, 2014.
Mr. Goodemote was raised in both the Olean and Springville areas. Along with his wife he owned and operated the former Heritage Inn in Olean. He later worked for OSM Corporation and retired from Keystone Tool & Die Co.
He was a member of St. Bonaventure Church and was an avid bowler at the former Bowlean. He tied the record for most number of 600+ games in the City League. In recent years he enjoyed woodworking and furniture building as well as doing graphic design work. What he most enjoyed as a hobby was flying to-scale remote control airplanes and was a member of the Southern Tier Aeronautical Radio Society for over 25 years.
Surviving are a daughter Michelle (Robert) Marcellin of Olean; a son Daniel Goodemote of Canton, GA; 3 grandchildren Aimee Marcellin, Hannah Marcellin and Ravyn Goodemote; a loving companion Lynda King; a brother Neil (Jody) Goodemote of Marietta, GA; a sister Annette (Jack) Wakeman of Orchard Park and many nieces and nephews.
In addition to his wife he was predeceased by 4 brothers and sisters Regis Goodemote, Marjorie Ehman, Dennis Goodemote and Mary Jean Grace.
Friends are invited to a memorial mass to be celebrated Saturday (December 30, 2017) at 9:30am in St. Bonaventure Church. Rev. James Vacco, OFM, pastor, will be the celebrant. Burial will follow in St. Bonaventure Cemetery.
Memorials may be made to Mt. Irenaeus Franciscan Mountain Retreat, PO Box 100, W. Clarksville, NY 14786 or to the American Heart Association of WNY, 5488 Sheridan Dr #300, Williamsville, NY 14221.
Arrangements are under the direction of the Casey, Halwig & Hartle Funeral Home, Olean. Online condolences may be expressed at oleanfuneralhome.com.