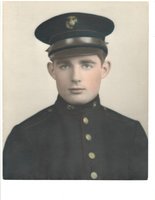 Richard J. Hannon
Richard J. "Gotta" Hannon
Olean, NY Richard J. "Gotta" Hannon of 113 Monroe Terrace passed away peacefully Sunday (December 24, 2017) at The Pines of Olean.
Born October 24, 1924 in Olean he was the son of Mark J. and Frances Naoma LeStrange Hannon. On August 7, 1948 at St. Mary of the Angels Church he married Mary Ann Frey who predeceased him May 9, 1999.
Mr. Hannon was a graduate of Olean High School and was a member of the '41-'42 Football Club. He was a veteran of WWII having served with the US Marine Corps in the Pacific Theatre from 1943 to 1946.
He was employed for 39 years for the New York State Conservation Department in Olean, retiring in 1982 as a lieutenant.
Mr. Hannon was a member of the Basilica of St. Mary of the Angels, the Olean American Legion and the National Wild Turkey Federation. He enjoyed gathering with family and friends for hunting and fishing at the camp in Pennsylvania. He loved dancing and listening to Big Band music, especially the Glenn Miller band. He also was a Green Bay Packers fan for many years and for part of his retirement years he volunteered for Meals on Wheels. Christmas was his favorite day of the year and he always enjoyed celebrating it with family.
Surviving are a daughter Edna Wintermantel of Allegany; 4 granddaughters Elizabeth (Charlie) Bares, Megan (James) Barillo, Katherine (Frank) Campanella and Nicole (Michael) Willnow; 6 great grandchildren Austin, Eleanor, Declan, Audrey, Violet and George; a brother Mark "Hugo" (Carolyn) Hannon of Portville; a sister Kathleen "Kitty Can't Go" Morton of Olean; a sister-in-law Jean Hannon of Olean and several nieces and nephews.
In addition to his wife he was predeceased by a son Richard H. Hannon in 2011 and a brother James Eugene "I Go" Hannon.
Friends will be received from 2-4 & 7-9pm on Tuesday at the Casey, Halwig & Hartle Funeral Home 3128 W. State Rd. Olean where a prayer service will be held Wednesday (December 27, 2017) at 9:30am in the funeral home. A funeral service will follow at 10am at the Basilica of St. Mary of the Angels in Olean. Burial will be in St. Bonaventure Cemetery with military honors being accorded by the Allegany American Legion Ritual Team.
Memorials may be made to the Basilica of St. Mary of the Angels, 202 S. Union St. Olean, NY 14760, the Olean American Legion, 307 E. State St. Olean, NY 14760 or to the Enchanted Mountains Chapter of the National Wild Turkey Federation, C/O Randy Opferbeck, 3164 N. Nine Mile Rd. Allegany, NY 14706.
Online condolences may be expressed at oleanfuneralhome.com.