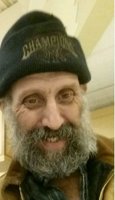 Ricky E. Miller
Ricky E. Miller
Cuba, NY Ricky E. Miller of 4261 W. Keller Hill Rd. passed away Thursday (December 21, 2017) at the home of his sister in Olean after a battle with cancer.
Born August 19, 1956 in Olean he was the son of David and Violet Showers Miller.
Ricky was raised in Olean, enjoyed the outdoors, and will be remembered as one who would help anyone he could. He enjoyed working at his job of salvaging scrap.
Surviving are 7 sisters and brothers Anna (Rodney) Shaffer of Cottageville, SC, Bonnie Miller of Olean, Timothy (Deb) Miller of Delavan, David (Elizabeth) Miller of Weston Mills, Harold Miller of Olean, Wayne Miller of Jamestown and Ronald (Mel) Miller of Olean; 1 aunt Ivadell Kinley of Jamestown and many nieces and nephews.
In addition to his parents he was predeceased by a sister Linda Johnson and a brother Frances Michael Miller.
Friends will be received on Wednesday (December 27, 2017) from 3-4pm at the Casey, Halwig & Hartle Funeral Home 3128 W. State Rd. Olean. Services will follow at 4pm in the funeral home. Rev. Wesley Gilbert will officiate. Burial will be in Pleasant Valley Cemetery, Olean.
Online condolences may be expressed at oleanfuneralhome.com.