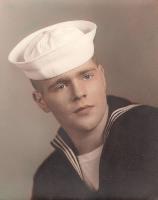 Douglas L. Sue
Limestone, NY Douglas L. Sue, of Carrollton Heights., formerly of Allegany, passed away Sunday (April 30, 2017) at the Olean General Hospital.
Born September 8, 1941 in Olean he was the son of Harry W. and Nancy Annabelle Wilcox Sue.
Doug was a graduate of Allegany High School class of 1960 where he enjoyed playing football and trumpet for the school band. He enlisted in the US Navy and served from 1960 to 1964. Serving on the USS Lake Champlain aircraft carrier based in Quonset Point Naval Air Station in Rhode Island and later served in the Reserves for the Navy Seabees.
He had primarily been employed as a truck driver in the asphalt business, retiring in 2006. He also owned Sue Trucking Co.. Additionally, he served as a part-time police officer for the village of Allegany for over 30 years, as well as working for the town of Allegany Highway Department for many years
He was a member of St. John's Lutheran Church and the Allegany American Legion and was a life member of the Allegany Engine Company. For many years he coached both Peewee and Midget football.
Surviving are his mother Annabelle Sue of Allegany; 2 daughters Robin (Lee) Allen of Friendship and Mary Beth Seeley of Olean; 2 sisters Becky (John) Repshas of California and Deborah (Bradley) Long of Fairport; 6 grandchildren Christopher Cleveland, Jennifer Margeson, Jamie Chase, Eric Seeley, Alyson Seeley and Sean Robertson; 4 great grandchildren Jenna Margeson, Tayden Margeson, Jaydalyn Margeson and Natalie DeMart; 2 nephews Robert (Samantha) Long and Scott (Renee) Long; a great nephew Will and a great niece Norah.
He was predeceased by his father on January 11, 2000.
Friends will be received on Thursday from 4-7pm at the Casey, Halwig & Hartle Funeral Home, 3128 W. State Rd. Olean. Funeral services will be held Friday (May 5, 2017) at 11am at St. John's Lutheran Church, Allegany. Rev. Dan Buringrud, pastor, will officiate. Burial will be at Allegany Cemetery with full military honors being accorded by the ritual team of the Allegany American Legion.
In lieu of flowers, memorials may be made to the American Legion, PO Box 233, Allegany, NY 14706 or to the Allegany Engine Co., 188 W. Main St., Allegany, NY 14706. Online condolences may be expressed at oleanfuneralhome.com.