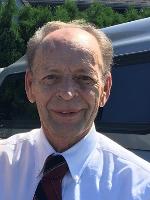 John B. "Johnny B. Goode" Survil
Olean- John B. Survil, of 130 S. 19th Street, passed away Sunday (April 9, 2017) at his home, surrounded by his family, after a courageous battle with cancer.
Known by many as Johnny B. Goode, he was born December 11, 1946 in Olean, to John and Mary Scheminger Survil.
John graduated from Olean High School in 1964 and then attended the Broadcast Institute in Sarasota FL where he received his Associates Degree in business. John was an entrepreneur and was involved in many businesses including; Singer Sewing Machine Store in Bradford, PA, Cable Comm., and Staffing Plus in Olean.
Johnny B. Goode was a Disc Jockey at WGGO Radio in Salamanca for many years and was a life long member of St. Mary of the Angels Parish in Olean.
Surviving are his fiance and longtime companion, Donna Skinner of Olean; three children Lisa (Jeff Shaw) Curtis of Olean, John (Vanessa) Bartlett of Bradford, PA, Ashley Blazejewski-Coutant of South Carolina; five grandchildren Ryan (Caitlin) Curtis of Knoxville, TN, Janelle (Kyle) Hollowell of Olean, Zachary Ramsey of Olean, Jackson and Abigail Bartlett of Bradford, PA; two great-grandchildren Rylin and Raigan Curtis of Knoxville, TN; four brothers Edward Survil of Colorado Springs, CO., Robert Survil of Duncanville, TX, Rev. Bernard Survil of Pittsburgh, PA., Raymond Survil of Allegany and several nieces and nephews.
Friends are welcome to attend a memorial mass to be celebrated Wednesday (April 12, 2017) at 10am in the Basilica of St. Mary of the Angels. Rev. David Tourville, associate pastor will officiate. A celebration of life party will follow the service at the Elks Lodge, 209 W. State Street, Olean.
Arrangements are under the direction of the Casey, Halwig & Hartle Funeral Home, Olean. Online condolences may be expressed at oleanfuneralhome.com.