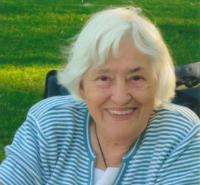 June Riggs Soplop
June Riggs Soplop
Tempe, AZ June Riggs Soplop, 91, formerly of N. 11th St. in Olean, passed away peacefully on January 14, 2017 in Tempe.
June was born December 30, 1925 in Allegany. After graduating from Allegany High School, she went to work for Acme Electric where she was employed for 30 years. June and her mother, Loretta had a passion for antiques and spent a great deal of time in search of the perfect piece to add to their collection. June also enjoyed successfully dabbling in real estate. She loved shopping, dining out and of course going for the Friday night fish fry with her friends, and visiting with the gals on the street. June was a very strong independent woman who looked forward to her solo cross-country trips to Arizona in her mini van. In her later years, she moved to Arizona to be closer to her children and grandchildren.
She is survived by her children, Karen Beckley of Whitefish, Montana, Laurie DeGideo of Tempe, Arizona and Christopher (Barbara) Soplop of Phoenix, Arizona; 5 grandchildren Laurie's 2 children, Jaime (Sergei) and Dominique (Alex) and Christopher and Barbara's 3 children, Megan, Andy and Gretchen. June also leaves behind 2 great grandchildren, Jaime's daughter Valentina and Dominique's son, Gianni; her cousins Connie Schnell Willis of Newton Highlands, Massachusetts and John Schnell of Buffalo and many nieces and nephews.
June was predeceased by her husband Francis Soplop, November 27, 1989; her mother, Loretta Riggs and her brother Robert Riggs.
Per June's wishes, her family will scatter her ashes over the Rocky Mountains in Glacier National Park. Online condolences may be expressed at oleanfuneralhome.com.